As the coronavirus outbreak sweeps across the world, people's health and livelihoods are being dramatically affected. There's no question that slowing the spread through social distancing measures should be a top priority. So, how can gyms and fitness businesses respond to protect the health of their customers, staff, and wider communities?
In this article – we share best practices from leading fitness companies on how to respond to the coronavirus threat.
Here's a quick summary of the steps you can be taking…
Follow government advice
Communicate clearly
Clean thoroughly
Offer alternatives
Maintain goodwill
Let's look at each of these best practices in a bit more detail…
Follow government advice
Following government advice closely is the #1 starting point. They may require people to maintain 1m distances between each other, in which case you'll need to facilitate this in your club.
Consider hanging 'not in use' signs on every other machine so that people have extra space around them.
If this means there's less capacity in your gym, then enforce time limits of 15mins per machine.
Keep hand soap stocked up and place handwashing guidance posters over sinks.
Tip – did you know you can create your own custom handwashing poster that features your choice of song?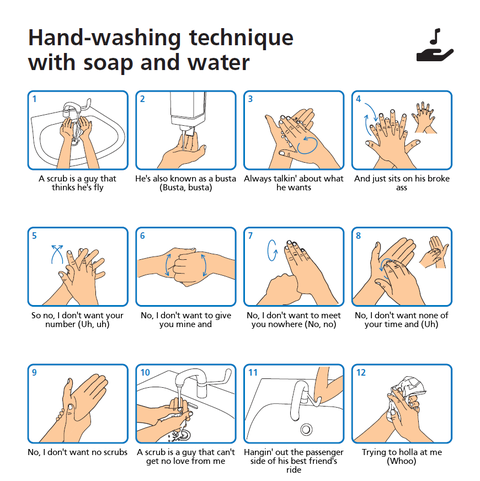 Communicate clearly
People have lots of questions right now, so update your members or clients on the latest info. Are you open? Are group fitness classes on hold? Will they be charged cancellations fees for missing sessions due to illness?
Update everyone on your email list and social media followers.
Pin the latest update to your profile so it appears at the top.
Communicate changes quickly so that members are always kept up-to-date.
IHRSA has put together a simple but effective comms guide if you're unsure what to say…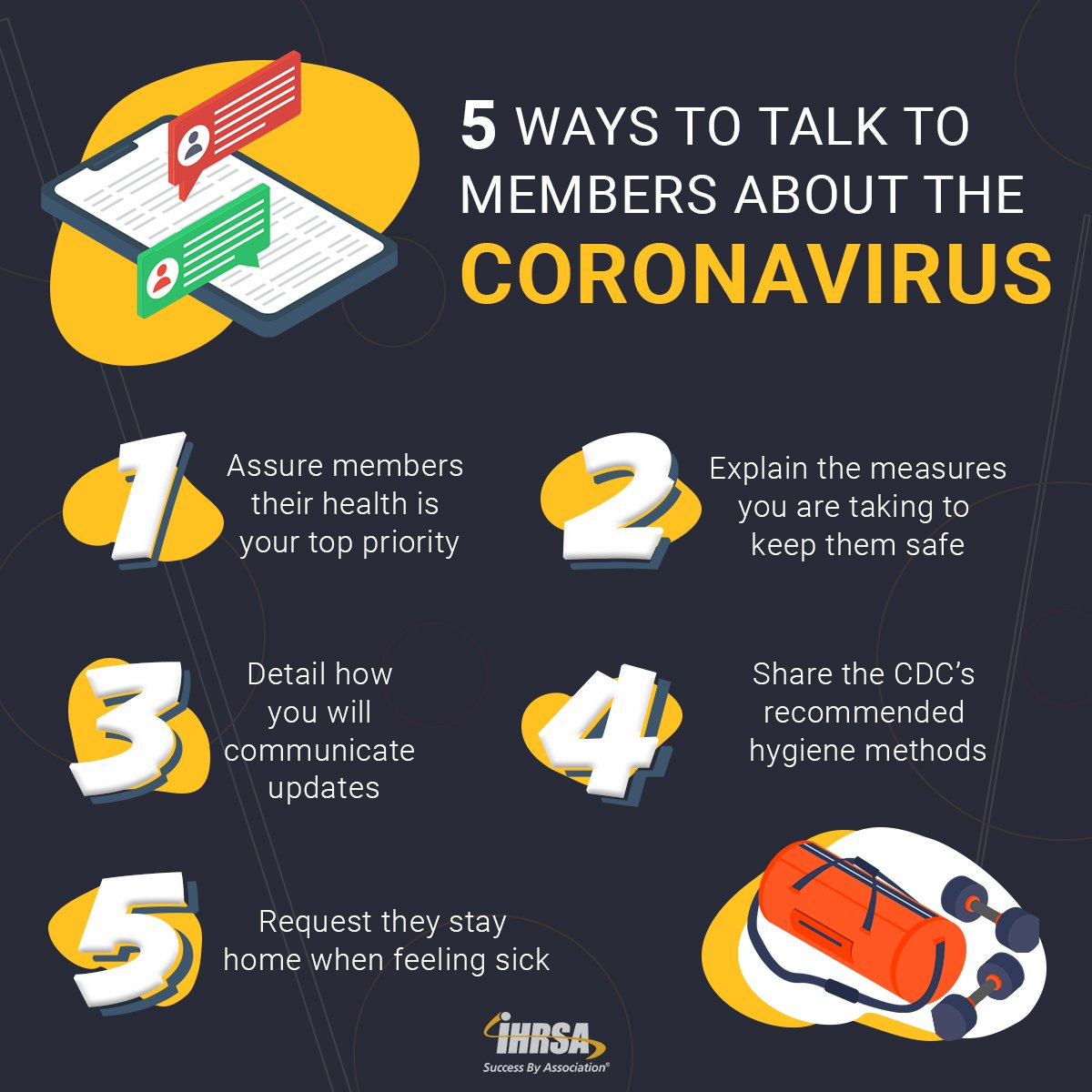 Clean thoroughly
This may go without saying but it's important to step up cleaning measures to prevent viral spread in your facility. Increase the frequency of cleaning shifts and focus on areas such as door handles, equipment grips, and sink taps that get touched most often. Increasing cleaning will not only minimise the spread among members but keep staff healthy and reassure both groups that you're taking action.
Offer alternatives
Coronavirus is going to challenge us all to do things differently. When a lockdown was declared in parts of China, the popularity of online fitness classes skyrocketed. Since people couldn't go outside, they were actively looking for alternative options – you can be part of the solution.
Do you have online resources such as workout videos or blog articles that people can tap into? Could you start live-streaming classes via Facebook Live or other platforms? What about alternative rostering schedules to support staff with childcare and commuting issues?
Don't assume that your only option is cancelling plans. Could you postpone it to a later date? Or find an alternative channel to deliver through? IHRSA recently cancelled its conference but switching to an online format could have been a viable alternative (at least for the educational aspect).
Maintain goodwill
Learn from ClassPass and strive to maintain goodwill in tough times. They recently announced that class credits would be rolled over until June. This is a shrewd move on their part since they were likely aware that many people would cancel their membership if unable to use it.
But they acted fast, got ahead of the curve, and were able to proactively prevent membership cancellations instead of reacting. They also announced that the usual fees for 'no shows' would be waived for people who were ill – a practical move and goodwill gesture. So, although it may be tempting to recoup any losses quickly, don't make rash moves that will alienate customers long-term.
We have a collective responsibility to slow the coronavirus spread and protect those at risk. Do this by following government advice, communicating clearly, and cleaning thoroughly. You can go a step further by offering alternatives and maintaining goodwill.